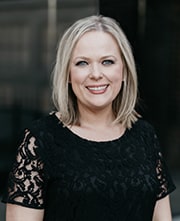 Born and raised in Charlotte, NC, Melinda attended Appalachian State University where she double majored in Political Science and Spanish. She moved on to American University where she received her Master's degree in Latin American Studies and a graduate certificate in Spanish translation. From there, Melinda worked for the U.S Department of Justice in the Office of the Inspector General for 6.5 years and the United Network for Organ Sharing for another 4 years serving as a policy liaison for kidney policy, as well as a regional administrator working with transplant professionals around the country where she received numerous accolades and awards. Melinda has always had a love and knack for design and is excited to finally turn her love for it into a full time career! Melinda is a Certified Interior Decorator (C.I.D) who loves helping buyers design their new home. Outside of work, Melinda resides in Northside with her dog, Truffles, and her wonderful husband.
We are moving to the Richmond area from DC and we relied heavily on the recommendations of The Yeatman Group to make important decisions regarding our home. The team was honest and provided quick responses, and they made us feel confident that we made the right choice for our family and selections for our home.
-JOSH THIGPEN
The Yeatman Group was a pleasure to work with! This was our first time building a home and they made the experience fun and as stress free as possible! Even after being in the house already for almost a year, I still see and hear from Kyle and his team, checking in on how we are doing! A great team to work with!
-J.E.
Don't hesitate to use The Yeatman Group for your next home purchase or resale. We recently purchased in Hallsley and worked with them to purchase our dream home. They were extremely professional, accommodating to our busy schedules, and a pleasure to deal with. The Mason family highly recommends this wonderful group!!!